PCT-65 Workstations, a robust design configured to work in hostile environments.
A PCT-65 workstation is a robust design that provides computer protection for companies that have hazardous working areas in particular wet areas. Any work areas that requires washdown at the end of each day and you use a computer in that area then this unit is ideal for you as it thrives in hostile wet areas protecting for your computer. The interface unit has.........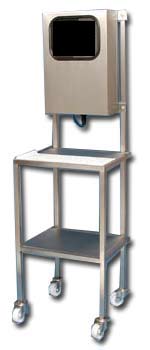 A Integral barcode laser scanner.
A Printer enclosure for bar-coded job tickets.
A integral temperature controlled heater ensures that if the PCT-65 workstation temperature drops below 15 deg C the heater switches on to keep the electronics at the correct operating temperature.
A waterproof mouse sealed to IP65.